Friday | Feb 2 2018
Announcing The 2018-2019 Season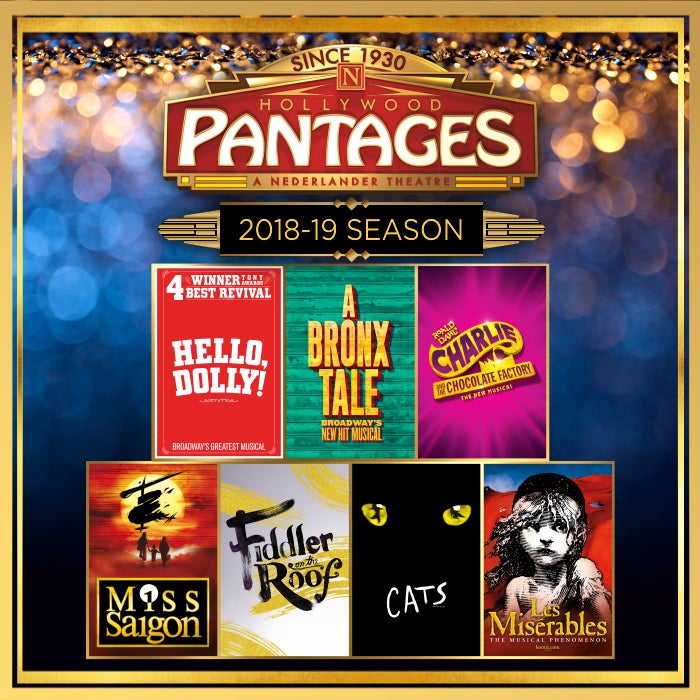 On Tuesday January 30th at 6:00am, we here at The Hollywood Pantages Theatre announced our 2018-2019 Season. The season is full of fan favorites that get back to the roots of The Great White Way, and even some new classics that are full of nostalgia and give you a vintage Broadway feel. Here's a little more about each of our fantastic new shows.
A Bronx Tale

"Wonderful and refreshing!
The kind of tale that makes you laugh and cry." - The New York Times
Broadway's hit crowd-pleaser takes you to the stoops of the Bronx in the 1960s- where a young man is caught between the father he loves and the mob boss he'd love to be.Bursting with high-energy dance numbers and original doo-wop tunes from the songwriter of Beauty and the Beast, A BRONX TALE is an unforgettable story of loyalty and family.Academy Award® winner Robert De Niro and Tony® winner Jerry Zaks direct this streetwise musical- based on Academy Award nominee Chazz Palminteri's story- that The New York Times hails as "A Critics' Pick! The kind of tale that makes you laugh and cry."
"A combination of Jersey Boys and West Side Story."
- amNewYork
Based on the play/one person show and movie of the same name.
The original one person show was written and performed by Chazz Palminteri.
The movie starred Chazz Palminteri, Joe Pesci, and Robert DeNiro(this was also his directorial debut).
Co-directed by Jerry Zaks who also directed the recent Hello Dolly revival.
Hello Dolly!

Winner of 4 Tony Awards including Best Musical Revival, Broadway's most beloved musical is back where it belongs! Directed by Tony winner Jerry Zaks and featuring choreography by Tony winner Warren Carlyle, Hello, Dolly! is "the best show of the year" (NPR).
The bold and enchanting Dolly Gallagher Levi is a widow, matchmaker and professional meddler. When she decides the next match she needs to make is for herself, she weaves a web of romantic complications for her newest client, the cantankerous "half-a-millionaire" Horace Vandergelder, his two clerks, a pretty hat maker and her assistant. Hello, Dolly! features Broadway classics like "Before the Parade Passes By," "It Only Takes a Moment," "Put on Your Sunday Clothes," and, of course, the title number, "Hello, Dolly!"
Breaking box office records week after week and receiving thunderous critical raves on Broadway, this "gorgeous" new production (Vogue) pays tribute to the original work of legendary director/choreographer Gower Champion -- hailed both then and now as one of the greatest stagings in musical theater history. Rolling Stone calls it "a must-see event. A musical comedy dream. If you're lucky enough to score a ticket, you'll be seeing something historic. Wow, wow, wow indeed!"
Based on The Merchant of Yonkers by Thornton Wilder.
Written by Jerry Herman
Famous names to have played Dolly in the past include Carol Channing (OBC), Mary Martin, Ethel Merman, Ginger Rogers, Martha Raye, Betty Grable, Bibi Osterwald, Phyllis Diller, Bette Midler, Pearl Bailey, and Bernadette Peters.
Set the 1964 Record as having the most Tony Awards at the time, 10.
Original run played 2,844 performances.
Revival is directed by Jerry Zaks who also co-directed A Bronx Tale Musical.
Cats
CATS, the record-breaking musical spectacular by Andrew Lloyd Webber that has captivated audiences in over 30 countries and 15 languages, is now on tour across North America! Audiences and critics alike are rediscovering this beloved musical with breathtaking music, including one of the most treasured songs in musical theater—"Memory". Winner of 7 Tony Awards® including BEST MUSICAL, CATS tells the story of one magical night when an extraordinary tribe of cats gathers for its annual ball to rejoice and decide which cat will be reborn. The original score by Andrew Lloyd Webber (Phantom, School of Rock, Sunset Boulevard), original scenic and costume design by John Napier (Les Misérables), all-new lighting design by Natasha Katz (Aladdin), all-new sound design by Mick Potter, new choreography by Andy Blankenbuehler (Hamilton) based on the original choreography by Gillian Lynne (Phantom) and direction by Trevor Nunn (Les Misérables) make this production a new CATS for a new generation!
Experience CATS for the first time as it begins a new life for a new generation... or let it thrill you all over again!
Fourth longest running Broadway musical of all time
Made into a film in 1998
Has been performed in over 20 languages
Original Broadway run used over 3,000 pounds of yak hair to make costumes
For the Broadway opening, the Winter Garden Theatre was gutted and the roof replaced to accommodate Grizabella's trip to the Heaviside Layer
T.S. Eliot's widow, Valerie, contributed the unpublished material about Grizabella that was the basis for Cats' most famous song, "Memory"
Three writers tried to set words to the music for "Memory" before Trevor Nunn (the show's director) wrote the lyrics himself
"Memory" has been recorded by over 150 artists, from Barbra Streisand to Johnny Mathis to Liberace. Barry Manilow's rendition was a Top 40 hit in the U.S.
Charlie and the Chocolate Factory

Roald Dahl's amazing tale is now LA's golden ticket! It's the perfect recipe for a delectable treat: songs from the original film, including "Pure Imagination," "The Candy Man," and "I've Got a Golden Ticket," alongside a toe-tapping and ear-tickling new score from the songwriters of Hairspray.Willy Wonka is opening his marvelous and mysterious chocolate factory...to a lucky few. That includes Charlie Bucket, whose bland life is about to burst with color and confection beyond his wildest dreams. He and four other golden ticket winners will embark on a mesmerizing joyride through a world of pure imagination. Now's your chance to experience the wonders of Wonka like never before – get ready for Oompa-Loompas, incredible inventions, the great glass elevator, and more, more, more at this everlasting showstopper!
Has original songs from the movie "Pure Imagination" and "The Candy Man"
Uses the glass elevator
Has two movie adaptations "Willy Wonka and the Chocolate Factory" (1971) and "Charlie and the Chocolate Factory"(2005)
Roald Dahl the author of the books was a chocolate taster when he was boy.
Chocolate companies allegedly sent spies to competitors to try to learn their secrets and in part inspired Dahl.
Just about all the characters were renamed for the final draft, with Willy Wonka's original name being Skilly Wonka after a childhood toy of Dahl's.
Was originally financed by Quaker Oats who were trying to promote their line of chocolate bars.
A great combination between both the movie and the book.
Fiddler on the Roof

Rich with musical hits you know and love, including "To Life (L'Chaim!)," "Sunrise, Sunset," "If I Were A Rich Man," "Matchmaker, Matchmaker," and "Tradition," this is the heartwarming story of fathers and daughters, husbands and wives, and life, love and laughter. Tony®-winning director Bartlett Sher and the team behind South Pacific and The King and I bring an original and authentic vision to this exhilarating masterpiece.
Based off a series of short stories by Sholem Rabinovich.
16th longest running Broadway show
Won 9 Tony Awards, out of 10 nominations.
Had 5 revivals
Famous names to have starred in Fiddler as Tevye: Zero Mostel, Chaim Topol, Alfred Molina, Harvey Fierstein, Leonard Nimoy. Golde: Randy Graff, Andrea Martin, Rosie O'Donnell, Norma Crane. Tzeitel: JoAnna Merlin, Bette Midler. Motel: Austin Pendleton. Yente: Bea Arthur, Perchik: Bert Convy, Paul Michael Glaser,
Made into a movie in 1971
The show gets its name from the painting by Marc Chagall "The Fiddler"
Succeeded "Hello Dolly" as the longest Broadway musical of its time in 1971.
The writers wrote 50 songs total for the musical but left out all but 15.
First Broadway show to reach 3,000 performances
Rich with musical hits you know and love, including "Tradition," "Sunrise, Sunset;' "If I Were A Rich Man;' "Matchmaker, Matchmaker" and "To Life (L'Chaim!)"
Direct from the recent Broadway revival, New York Magazine hails this production as "entirely fresh, funny, and gorgeous. A reason for celebration!"
Les Miserables

Cameron Mackintosh presents the new production of Alain Boublil and Claude-Michel Schönberg's Tony Award-winning musical phenomenon, Les Misérables, direct from an acclaimed two-and-a-half-year return to Broadway. With its glorious new staging and dazzlingly reimagined scenery inspired by the paintings of Victor Hugo, this breathtaking new production has left both audiences and critics awestruck, cheering "Les Miz is born again!" (NY1). Set against the backdrop of 19th-century France, Les Misérables tells an enthralling story of broken dreams and unrequited love, passion, sacrifice and redemption – a timeless testament to the survival of the human spirit. Featuring the thrilling score and beloved songs "I Dreamed A Dream," "On My Own," "Stars," "Bring Him Home," "One Day More," and many more, this epic and uplifting story has become one of the most celebrated musicals in theatrical history. Seen by more than 70 million people in 44 countries and in 22 languages around the globe, Les Misérables is still the world's most popular musical, breaking box office records everywhere in its 32nd year.
Based on the book of the same name by Victor Hugo
Logo derived from an illustration in Hugo's book
Has 392 costumes and 31 wigs
Has been translated into 22 different languages and mounted in 44 countries
There have been 47 cast recordings(OBC and symphonic versions have won Grammys)
Movie of the same name starred Anne Hathaway, Hugh Jackman, and Russell Crowe.
Academy Awards won by the movie include Best Make-up and Hairstyling, Best Sound Mixing, and Best Supporting Actress (Anne Hathaway).
Longest running musical of all time and the 5th longest on Broadway
The original London cast included Patti Lupone as Fantine
While watching Oliver, Alain Boublil remembered Gavroche from the novel and it inspired him to write the musical as he remember a similarly spunky young lad
Stars that have starred in various incarnations of Les Mis include Lea Michelle, Melora Harkin, and Claire Danes.
This is the same production is being done all around the world (London being the exception), it is also the same version that was performed at the 25th Anniversary and is direct from the 2014 Broadway Revival.
The same production that was at the Ahmanson in 2011.
Miss Saigon

"A DYNAMITE BROADWAY REVIVAL."
- The New Yorker
Experience the acclaimed new production of the legendary musical Miss Saigon, from the creators of Les Misérables. This is the epic story of a young Vietnamese woman named Kim. In a bar run by a notorious character called The Engineer, Kim meets an American G.I. That encounter will change their lives forever. Featuring stunning spectacle, a sensational cast of 42, and a soaring score including Broadway hits like "Last Night of the World," "The Movie in My Mind," and "The Heat is On in Saigon," this is a theatrical event you will never forget.
"THE NEW MISS SAIGON SOARS TO THE RAFTERS!"
- NY1
Has an almost full size helicopter and Cadillac on stage.
Takes 33 trucks to transport from city to city.
Cast wears 375 costumes
300 pounds of fog per show
Has been performed in over 28 countries and in over 15 different languages.
Lea Salonga won the Tony Award for playing Kim.
Based on Madam Butterfly by Giacomo Puccini's Madam Butterfly.
Season Packages are available now! CLICK HERE to get yours. Want more about these great shows? Check out our 2018-19 Season Video!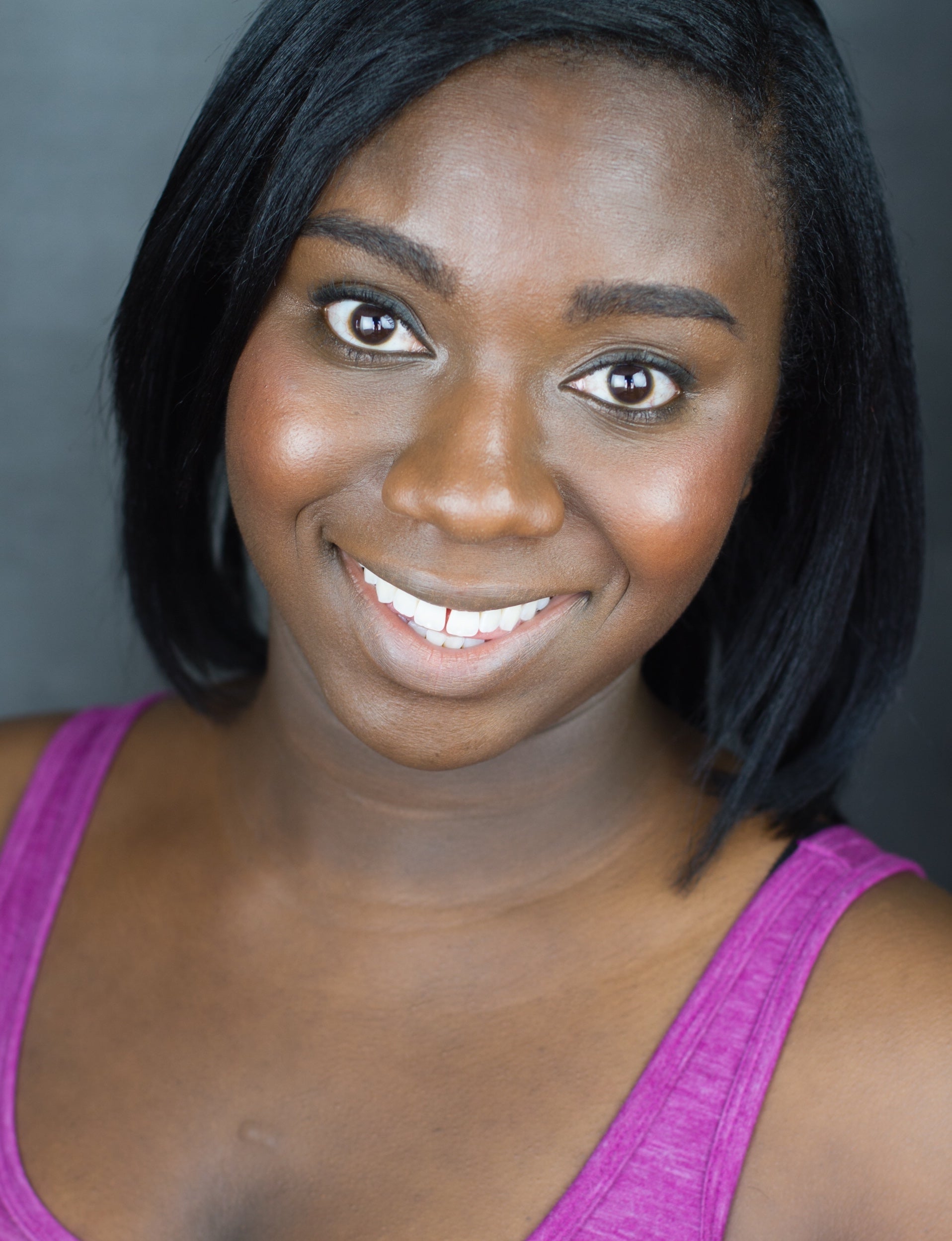 Jordan has worked as a front of house usher at The Hollywood Pantages Theatre since 2015 and has been an intern in the marketing department since early September. She's studying to receive a major in business and a minor in psychology from Antioch University. Jordan has had a deep love for theatre from an early age and is so excited for the opportunity to do this internship, and work with so many great people.