Wednesday | Oct 25 2017
EduHam: Bringing Hamilton to the Classroom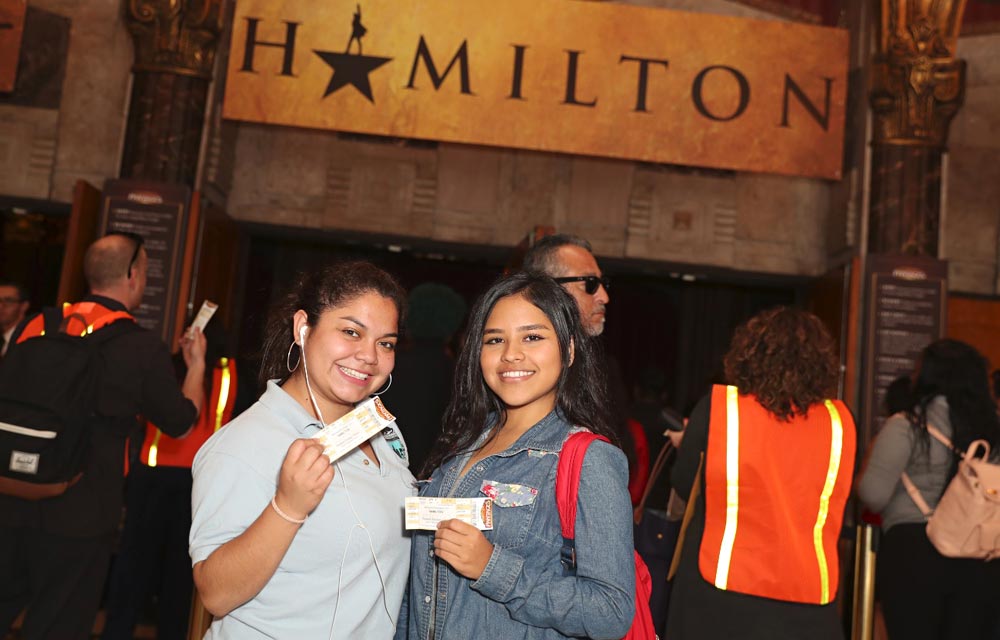 By Micaela Cummings
October 12th Hamilton's celebrated education program made its debut in Los Angeles. It was a full-day experience for students and teachers that featured student performances, a Q&A session with the Hamilton cast, and attendance at a Hamilton matinee.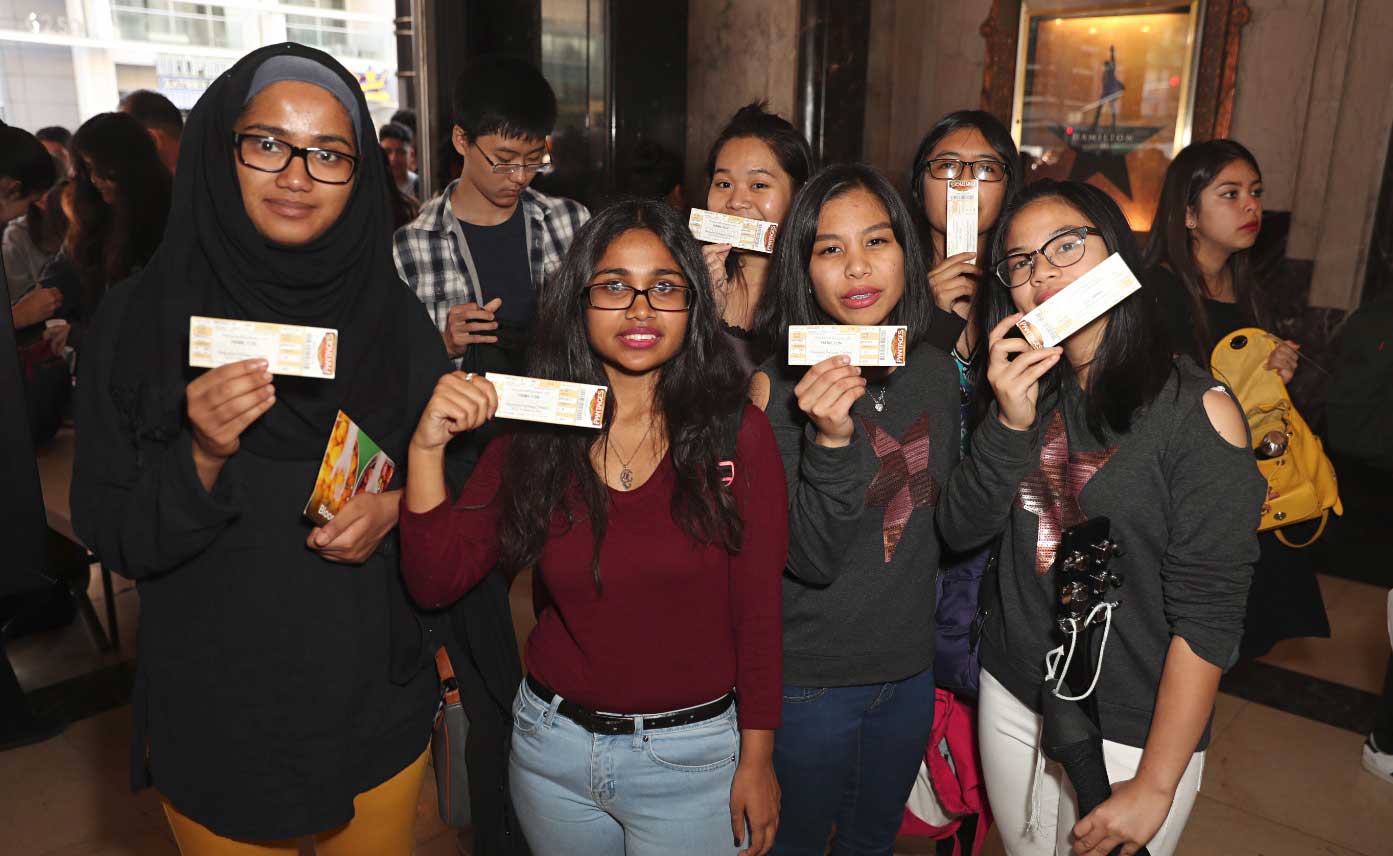 LAUSD students show off their Hamilton tickets before heading through the doors.
The EduHam Program is a collaboration between the producers of Hamilton, the Miranda family, and the Gilder Lehrman Institute of American History. The Gilder Lehrman Institute of American History is a nonprofit organization devoted to improving the teaching and learning of American history.
Master of Ceramonies, Ruben Carbajal (John Laurens/Phillip Schuyler) welcomes the 2,600 LAUSD students to the Hollywood Pantages.
This teacher-led curriculum is grounded in original historic documents about the Founding Era. A dedicated website is provided that includes interviews with Lin-Manuel Miranda and other Hamilton cast members, an extensive collection of primary source documents, and interactive features aimed at exploring the life and times of Alexander Hamilton.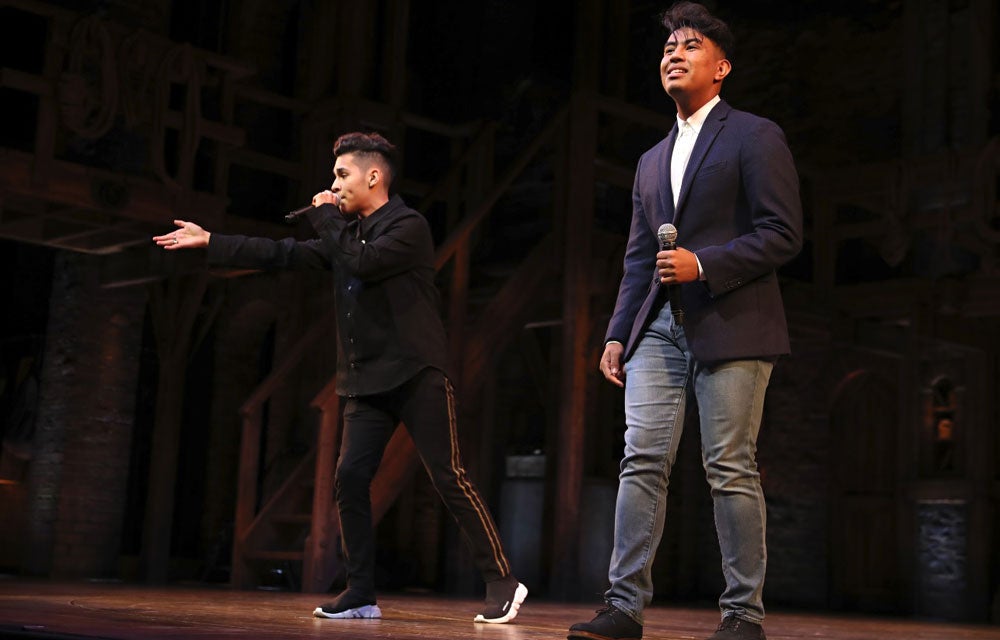 Two aspiring rappers show off their skills and knowledge on the life of Alexander Hamilton
Students work to create original songs, poems, and dramatic scenes inspired by their analysis of primary source materials and lyrics from the musical.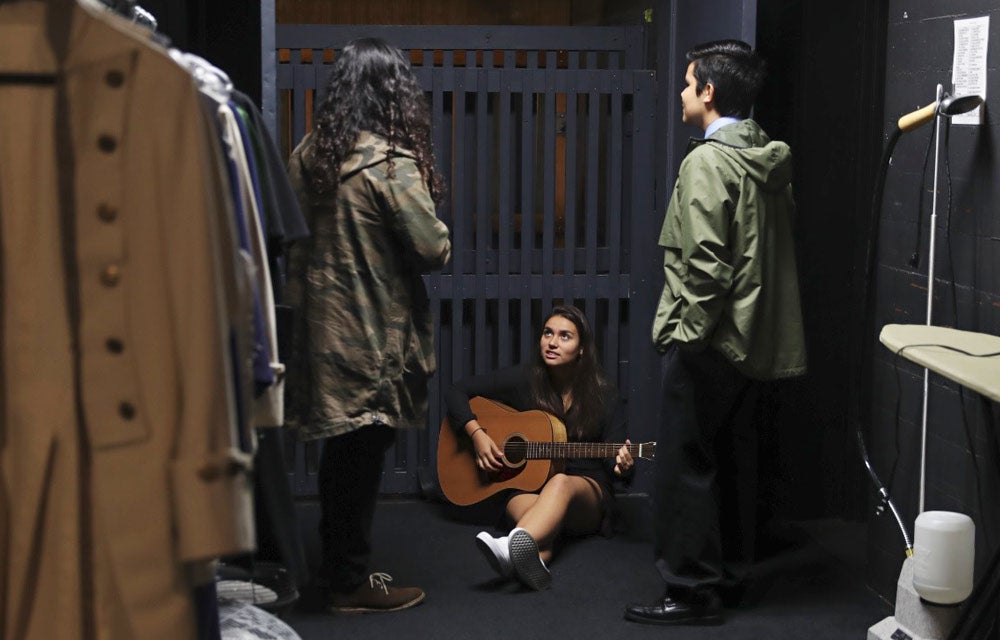 Students get in some last minute rehearsal before performing in front of their peers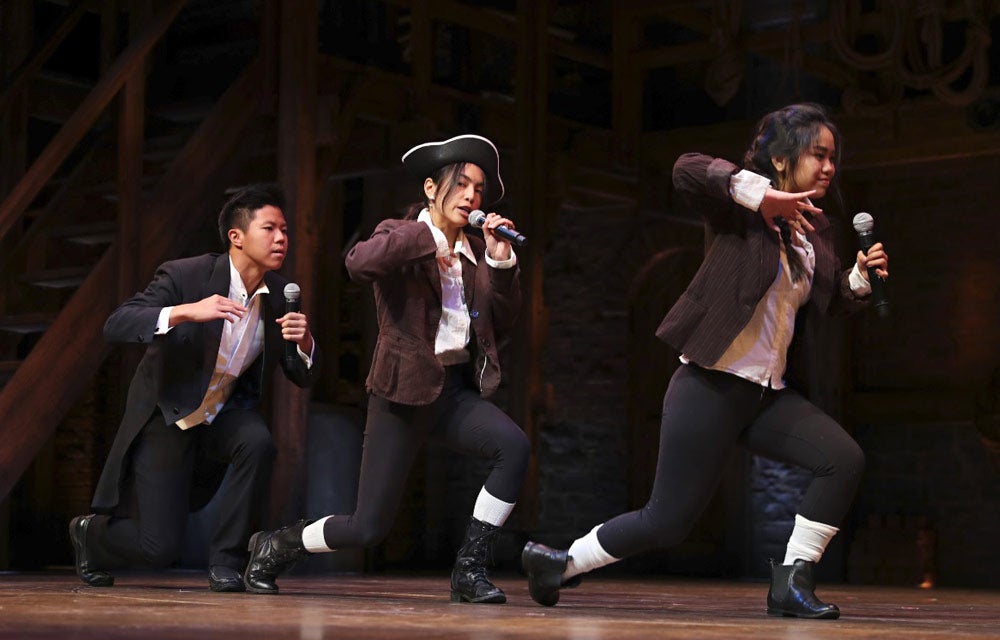 A trio performs a choreographed number in front of a cheering crowd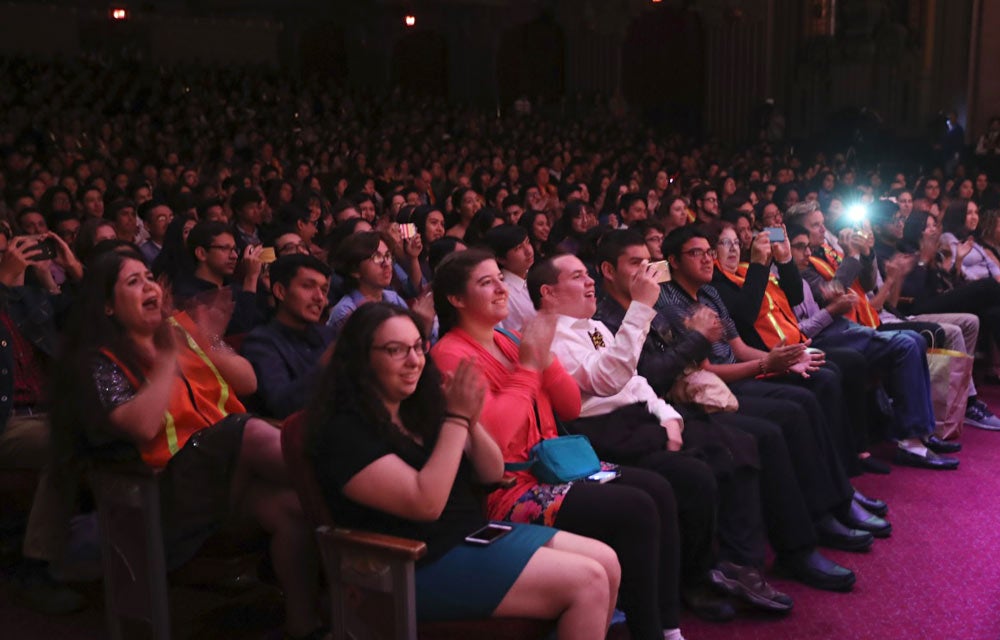 The audience cheers become louder with each performance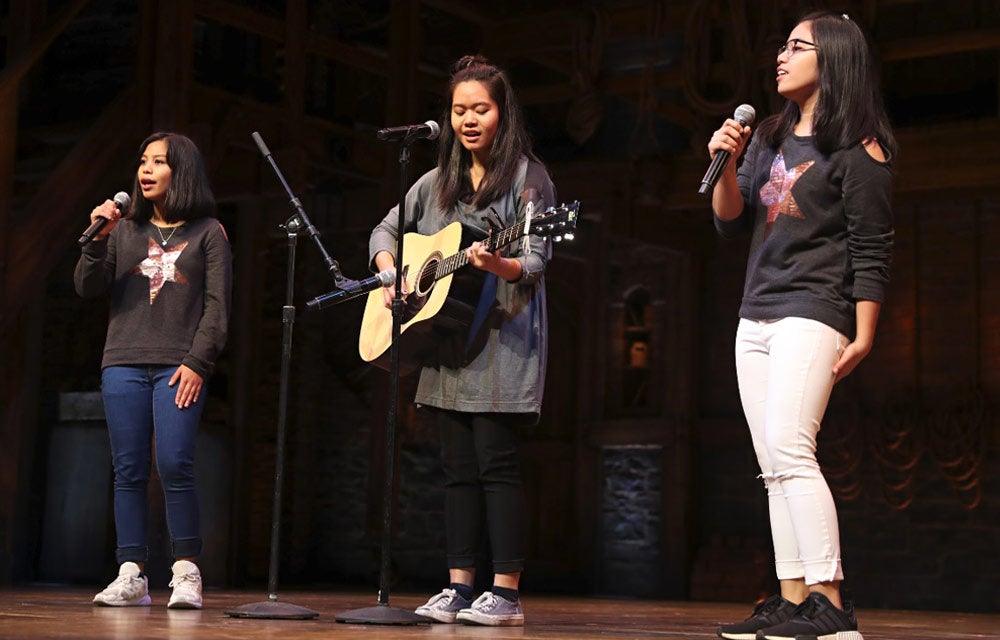 Students sing a song about our Nation's History.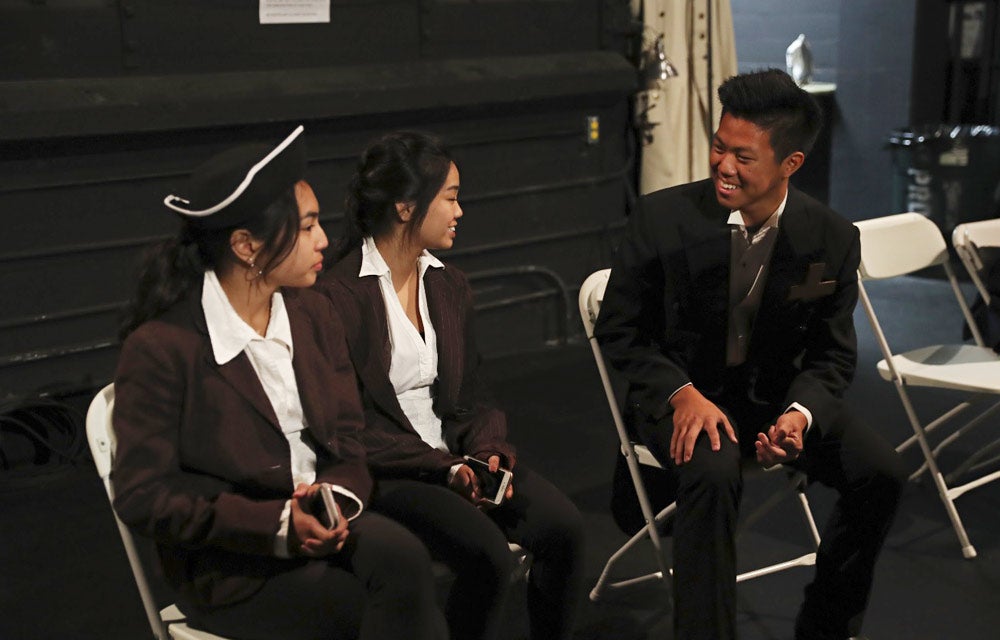 Students laughing off their nerves as they wait backstage.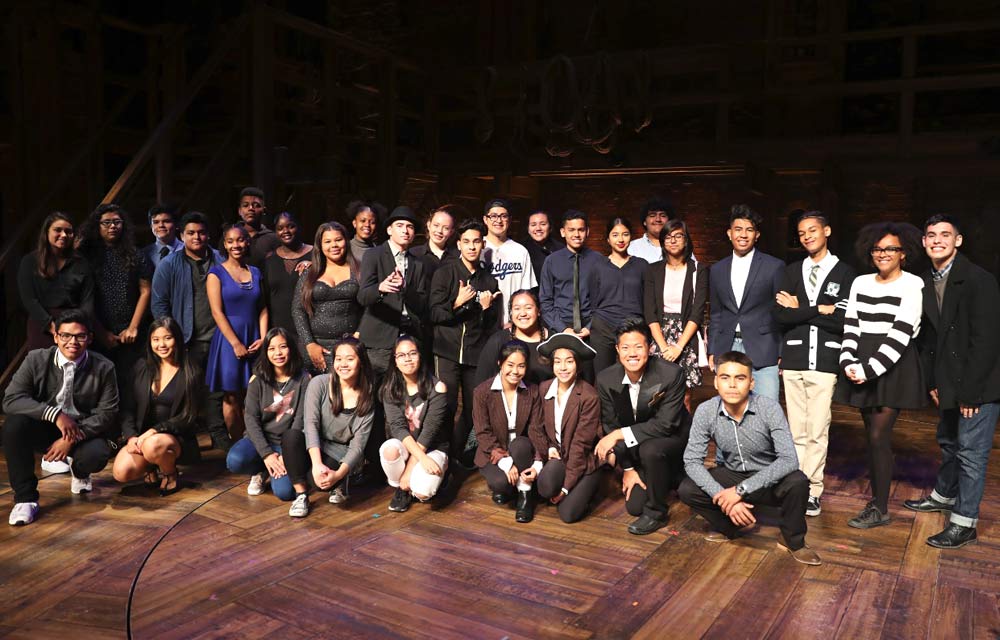 EduHam performers pose on the set of Hamilton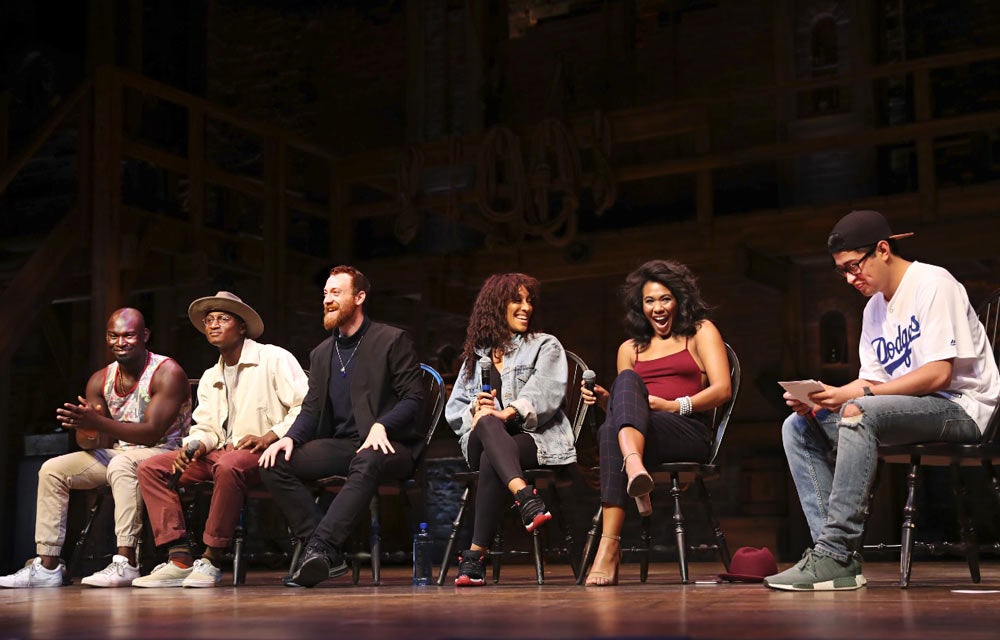 Students and teachers enjoy a Q & A with the cast of Hamilton. From Left: Isaiah, Johnson, Jeffery Duffy, Andrew Wojtal, Jennifer Locke, Raven Thomas, and Ruben Carbajal
The Hamilton Education Program continues to inspire students and teachers to become historians, writers, musicians, and performers. 2,600 LAUSD students will attend each of the three Eduham dates scheduled for Los Angeles. (October 12, 26, and November 2)
For more information about the Hamilton Educational Program visit: GilderLehrman.org/Hamilton