Hollywood Food Coalition Food Drive
DONATE TO OUR FOOD DRIVE
In partnership with the Hollywood Food Coaltion
DONATIONS ACCEPTED ALL WEEK • JANUARY 24-28, 2022
The Hollywood Pantages Theatre is continuing our partnership with the Hollywood Food Coalition to provide needed supplies for the Coalition's nightly Hollywood Community Dinner for anyone in need of a hot, nutritious meal. This food drive is specifically asking for:
Elbow macaroni pasta
Penne pasta
Olive oil
Canned tomato products
DONATIONS MAY BE DROPPED OFF AT THE DONATION BIN LOCATED IN THE BOX OFFICE LOBBY DURING OPERATING HOURS. CLICK HERE for up-to-date hours.
IF YOU DONATE DURING COMMUNITY WEEK TAKING PLACE JANUARY 24-28, 2022 AT THE HOLLYWOOD PANTAGES, YOU CAN ENTER TO WIN VIP TICKETS TO HAMILTON**
In order to enter to win VIP tickets to HAMILTON, please speak with someone at the Box Office when donating your items (during operating hours). You'll be shown a QR code to submit your digital entry.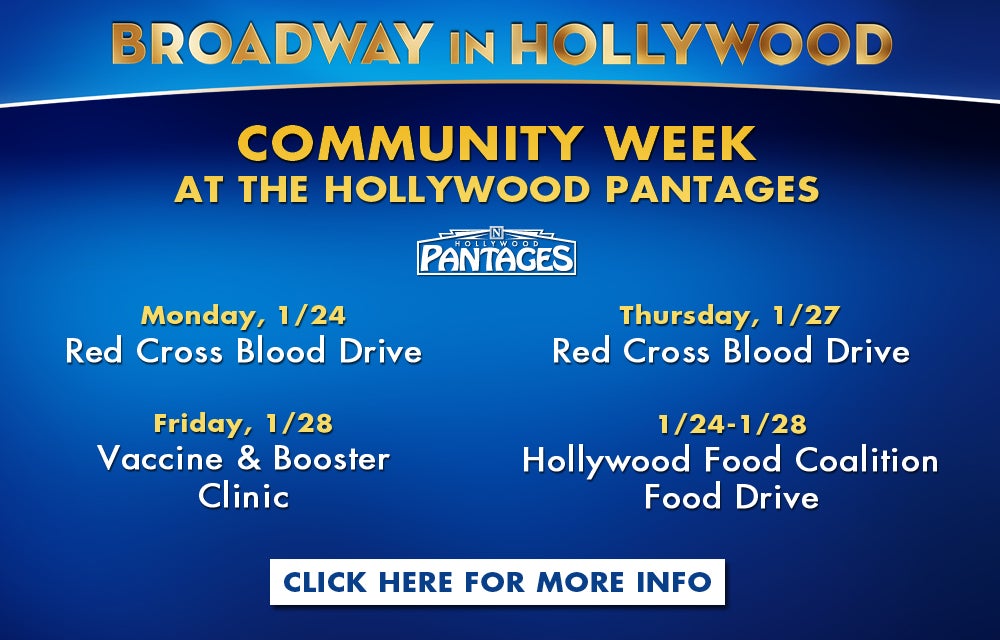 If you're not able to visit the Pantages in-person, please consider donating to Hollywood Food Coalition's Amazon Wish List. Please visit hofoco.org for more information. For a helpful list of items MOST in need, CLICK HERE to download!
This food drive benefits Hollywood Food Coalition, a 501(c)(3) nonprofit that has served hot, healthy meals every night of the year, since 1987, without ever missing a night. Any hungry person is welcome, with absolutely no barriers or restrictions that could turn someone away.
Thank you for your donation and for helping get LA fed!
HAMILTON LOS ANGELES CAST MEMBERS SUPPORTING OUR HOLIDAY FOOD DRIVE IN 2021
ABOUT THE HOLLYWOOD FOOD COALITION

**All who donate to our food drive during Community Week from January 24-28, 2022, receive a chance to win a pair of VIP TICKETS to see HAMILTON at the Hollywood Pantages Theatre on either Feb 9 or 10. No purchase necessary. 1 entry per individual. Drawing for tickets will take place week beginning January 31, 2022.