Saturday

October

7

2023

8:00 PM
CHRIS TUCKER is an internationally recognized, award-winning actor, producer and comedian. He is best known for his role of Detective James Carter in the blockbuster Rush Hour action-comedy film franchise, starring opposite Jackie Chan under the direction of Brett Ratner. Chris currently can be seen on the big screen staring opposite Ben Affleck, Matt Damon and Viola Davis in the Amazon Studio hit AIR.
Tucker's career began in the early 1990s when he became a favorite on Russell Simmons' HBO Def Comedy Jam. He then rose to prominence with his first starring role, in the 1995 cult classic Friday, alongside Ice Cube. In 1997, Tucker executive produced and co-starred with Charlie Sheen in the hit movie Money Talks, directed by Ratner, and also appeared in Luc Besson's globally successful sci-fi adventure The Fifth Element.
His other film credits include the Hughes brothers' Dead Presidents, Quentin Tarantino's Jackie Brown, David O'Russell's award-winning hit Silver Linings Playbook, and Ang Lee's Billy Lynn's Long Halftime Walk.
In 2015, Tucker released Chris Tucker Live exclusively on Netflix, marking the first project he starred in and produced through his own company, Chris Tucker Entertainment. He currently tours around the world performing live comedy shows, which have received rave reviews globally.
In addition to entertaining millions of fans on stage and screen, Tucker is a dedicated humanitarian, spending much of his spare time traveling the world, doing charitable work through The Chris Tucker Foundation. By making a difference, he truly believes we are blessed to be a blessing.
No Cell Phones Allowed

This is a strict NO CELL PHONES ALLOWED show. Please leave your phones in your cars or at home. Anyone who brings a cell phone will be required to place it in a locked pouch. Everyone is subject to a pat down and wanding. Anyone caught with a cell phone inside the venue will be immediately ejected.
Venue Info
Pantages Theatre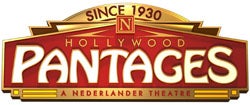 In the heart of Hollywood, on Hollywood Boulevard, right down the block from Vine Street, stands the Hollywood Pantages Theatre. It's a fitting location: The Pantages has become one of the greatest landmarks of Hollywood, signifying both the glorious past and adventuresome future of the world's entertainment capital.
The Hollywood Pantages has a history as grand and diverse as the stage and screen fare which audiences have flocked to enjoy there for half a century. These days it's one of Los Angeles' leading homes of legitimate theatre (the five highest-grossing weeks in L.A.'s theatrical history were all shows at the Pantages) and a favorite "location" for tv shows, movies and music videos. In the past, it has been a movie house, with live vaudeville acts between features as well as the site of many gala premieres and "spectaculars." For ten years the Hollywood Pantages Theatre was the home of the glittering Academy Awards Presentations.
While the use of the Hollywood Pantages Theatre may have changed over the years, the theatre does not appear all that different today. After several touch-ups over the years, the Hollywood Boulevard showplace was renovated at the turn of the 21st century to recapture its 1930 look and luxury. When the theatre reopened in September 2000, some 300 people had repainted nearly every inch of the theatre, restored its outer lobby and missing chandeliers, refurbished its walls and prepared it for the new century.
Click the link below for more venue information including directions, parking and more!
More Info