Pantages Theatre
Daryl Hall and The Daryl's House Band
w/ special guest Todd Rundgren
Monday

November

6

2023

7:30 PM

Use code DHPAN23
Daryl Hall is a modern-day renaissance man, an inductee into the Rock and Roll Hall of Fame with the best-selling duo of all time, the star of his very own award-winning web series-turned-TV staple, Live from Daryl's House, as well as a successful venue owner with "Daryl's House," a restored venue and live music space in Pawling, N.Y.

Since forming his partnership with John Oates in 1972, the Philadelphia soul man is still achieving career milestones more than four decades later, continuing to perform with his band to sold out venues everywhere.

It's been quite a few years for Hall, including the opening of "Daryl's House," a combination world-class restaurant and performance venue, which he kicked off with a live-streamed Daryl Hall & John Oates concert on October 31, 2014 . The popular venue also serves as home base for his multi award-winning Live from Daryl's House. The show, which began as a "light bulb" moment for Hall when he launched it in 2007 as a free webcast, has set the standard for artist-initiated projects. The groundbreaking series provides a mix of legends and the next generation of superstars.

Previous episodes of Live From Daryl's House have featured a diverse mix of veteran and new performers from rock, soul, country and R&B including rock legends Sammy Hagar, Joe Walsh, Cheap Trick, Kenny Loggins, Todd Rundgren, Nick Lowe, Dave Stewart and Billy Gibbons of ZZ Top; soul and R&B artists The O'Jays, Aaron Neville, Aloe Blacc, Kandace Springs, Elle King, Wyclef Jean, Smokey Robinson, Cee Lo Green, Booker T & The MGs, and Sharon Jones; big-league singer/songwriters such as Ben Folds, Rob Thomas, Jason Mraz, Gavin DeGraw, Goo Goo Dolls' John Rzeznik and Fall Out Boy's Patrick Stump; country artists such as Shelby Lynne; and has helped break new acts like Fitz & The Tantrums, Grace Potter & The Nocturnals, Neon Trees, Johnnyswim, Parachute and Anderson East.

Daryl Hall has come a long way, and he's still got plenty of mileage left in a career that's taken him from the streets of Philadelphia to the halls of the Rock and Roll Hall of Fame in Cleveland. The best is yet to come.
Venue Info
Pantages Theatre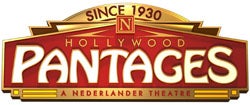 In the heart of Hollywood, on Hollywood Boulevard, right down the block from Vine Street, stands the Hollywood Pantages Theatre. It's a fitting location: The Pantages has become one of the greatest landmarks of Hollywood, signifying both the glorious past and adventuresome future of the world's entertainment capital.
The Hollywood Pantages has a history as grand and diverse as the stage and screen fare which audiences have flocked to enjoy there for half a century. These days it's one of Los Angeles' leading homes of legitimate theatre (the five highest-grossing weeks in L.A.'s theatrical history were all shows at the Pantages) and a favorite "location" for tv shows, movies and music videos. In the past, it has been a movie house, with live vaudeville acts between features as well as the site of many gala premieres and "spectaculars." For ten years the Hollywood Pantages Theatre was the home of the glittering Academy Awards Presentations.
While the use of the Hollywood Pantages Theatre may have changed over the years, the theatre does not appear all that different today. After several touch-ups over the years, the Hollywood Boulevard showplace was renovated at the turn of the 21st century to recapture its 1930 look and luxury. When the theatre reopened in September 2000, some 300 people had repainted nearly every inch of the theatre, restored its outer lobby and missing chandeliers, refurbished its walls and prepared it for the new century.
Click the link below for more venue information including directions, parking and more!
More Info