Friday

January

24

2020

8:00 PM

Best Availability

Saturday

January

25

2020

2:00 PM

Saturday

January

25

2020

8:00 PM

Sunday

January

26

2020

1:00 PM

Sunday

January

26

2020

6:30 PM

Tuesday

January

28

2020

8:00 PM

Wednesday

January

29

2020

2:00 PM

Wednesday

January

29

2020

8:00 PM

Best Availability

Thursday

January

30

2020

8:00 PM

Best Availability

Friday

January

31

2020

8:00 PM

Best Availability

Saturday

February

1

2020

2:00 PM

Saturday

February

1

2020

8:00 PM

Best Availability

Sunday

February

2

2020

1:00 PM

ASL | Open Caption
"IRRESISTIBLE IN ITS CREATIVITY AND VERVE!"
-Los Angeles Times
"IT'S SIMPLY MAGICAL!"
-Los Angeles Daily News
"A PERFECT SHOW FOR THE HOLIDAYS."
-BroadwayWorld
From the producers of The Lion King and Aladdin, FROZEN, the Tony®-nominated Best Musical, will celebrate its North American tour opening at the Pantages Theatre; December 4, 2019 through February 2, 2020. FROZEN, heralded by The New Yorker as "thrilling" and "genuinely moving," quickly emerged as the biggest musical hit of last year's Broadway season, smashing four St. James Theatre house records and placing it in the top 10 best-selling shows every week since opening in March 2018.
A mysterious secret. A family torn apart. As one sister struggles with being an outsider and harnessing her powers within, the other sets out on a thrilling adventure to bring her family together once again. Both are searching for love, but they'll learn that to find it they'll have to look inside themselves first.
FROZEN is melting hearts on Broadway in an all-new production created for the stage by an award-winning team. It features the songs you know and love from the original film plus an expanded score with a dozen new numbers. The creative team at its helm has won a cumulative 16 Tonys and includes Oscar® winner Kristen Anderson-Lopez and EGOT-winning Robert Lopez (music & lyrics), Oscar-winning Jennifer Lee (book), Tony and Olivier Award-winning Michael Grandage (director) and Tony winner Rob Ashford (choreographer).
An unforgettable theatrical experience filled with sensational special effects, stunning sets and costumes, and powerhouse performances, FROZEN is everything you want in a musical: It's moving. It's spectacular. And above all, it's pure Broadway joy.
FROZEN is produced by Disney Theatrical Productions under the direction of Thomas Schumacher.
Additional Ticket Information

There is a 9 ticket limit across the engagement. Orders in excess of this limit may be subject to cancellation.
Price level 5 is will call only, including window sales. Tickets will be left in the purchaser's name only and may be picked up no sooner than one hour prior to curtain. Sorry, no name changes allowed.

Best Available Showtimes

Accessible Performances

ASL Interpretation

Click your desired performance to purchase tickets in our ASL seating area.

Open Captioning

Click your desired performance to purchase tickets in our open caption seating area.

Telecoil Induction Loop

Simply set your device to the Telecoil feature, and adjust volume accordingly. We also offer a limited number of T-coil loop receivers for patrons with no personal device.

Special Requests

To request ASL interpretation, open captioning, or audio description services for a different performance, or for help finding accessible seats:

Email is the best way to reach us. Please allow at least 2 weeks advance notice when making a request.

For more information, visit our Accessibility page.

Digital Lottery

CLICK HERE for more information and to enter the FROZEN digital lottery.

Official Playbill

CLICK HERE to read the Official Playbill for Disney's FROZEN

Age Recommendation & Run Time

Age Recommendation

Recommended for a general audience. As an advisory to adults who might bring young people, Disney recommends its productions for ages 6 and up. All persons entering the theater, regardless of age, must have a ticket.

Running Time

2 Hours and 10 Minutes (Including Intermission)

Sensory Advisory

Please be advised that smoke, haze, and strobe lights are used during this performance.
Venue Info
Pantages Theatre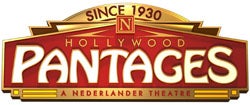 In the heart of Hollywood, on Hollywood Boulevard, right down the block from Vine Street, stands the Hollywood Pantages Theatre. It's a fitting location: The Pantages has become one of the greatest landmarks of Hollywood, signifying both the glorious past and adventuresome future of the world's entertainment capital.
The Hollywood Pantages has a history as grand and diverse as the stage and screen fare which audiences have flocked to enjoy there for half a century. These days it's one of Los Angeles' leading homes of legitimate theatre (the five highest-grossing weeks in L.A.'s theatrical history were all shows at the Pantages) and a favorite "location" for tv shows, movies and music videos. In the past, it has been a movie house, with live vaudeville acts between features as well as the site of many gala premieres and "spectaculars." For ten years the Hollywood Pantages Theatre was the home of the glittering Academy Awards Presentations.
While the use of the Hollywood Pantages Theatre may have changed over the years, the theatre does not appear all that different today. After several touch-ups over the years, the Hollywood Boulevard showplace was renovated at the turn of the 21st century to recapture its 1930 look and luxury. When the theatre reopened in September 2000, some 300 people had repainted nearly every inch of the theatre, restored its outer lobby and missing chandeliers, refurbished its walls and prepared it for the new century.
Click the link below for more venue information including directions, parking and more!
More Info