Wednesday

February

9

2022

8:00 PM

Thursday

February

10

2022

8:00 PM

Friday

February

11

2022

8:00 PM

Saturday

February

12

2022

2:00 PM

Saturday

February

12

2022

8:00 PM

Sunday

February

13

2022

1:00 PM

Wednesday

February

16

2022

8:00 PM

Thursday

February

17

2022

8:00 PM

Friday

February

18

2022

8:00 PM

Saturday

February

19

2022

2:00 PM

Saturday

February

19

2022

8:00 PM

Sunday

February

20

2022

1:00 PM

Wednesday

February

23

2022

8:00 PM

Thursday

February

24

2022

8:00 PM

Friday

February

25

2022

8:00 PM

Saturday

February

26

2022

2:00 PM

ASL | Open Caption | Audio Description

Saturday

February

26

2022

8:00 PM

Sunday

February

27

2022

1:00 PM

Sunday

February

27

2022

6:30 PM

Tuesday

March

1

2022

8:00 PM

Wednesday

March

2

2022

8:00 PM

Thursday

March

3

2022

8:00 PM

Friday

March

4

2022

8:00 PM

Saturday

March

5

2022

2:00 PM

Saturday

March

5

2022

8:00 PM

Sunday

March

6

2022

1:00 PM

Open Caption

Sunday

March

6

2022

6:30 PM

Tuesday

March

8

2022

8:00 PM

Wednesday

March

9

2022

8:00 PM

Thursday

March

10

2022

8:00 PM

Friday

March

11

2022

8:00 PM

Saturday

March

12

2022

2:00 PM

Saturday

March

12

2022

8:00 PM

Sunday

March

13

2022

1:00 PM

Sunday

March

13

2022

6:30 PM

Tuesday

March

15

2022

8:00 PM

Wednesday

March

16

2022

8:00 PM

Thursday

March

17

2022

8:00 PM

Friday

March

18

2022

8:00 PM

Saturday

March

19

2022

2:00 PM

Saturday

March

19

2022

8:00 PM

Sunday

March

20

2022

1:00 PM

Sunday

March

20

2022

6:30 PM
PERFORMANCES CANCELLED THROUGH FEBRUARY 6TH · CLICK FOR UPDATES
---
HAMILTON is the story of America's Founding Father Alexander Hamilton, an immigrant from the West Indies who became George Washington's right-hand man during the Revolutionary War and was the new nation's first Treasury Secretary. Featuring a score that blends hip-hop, jazz, blues, rap, R&B, and Broadway, HAMILTON is the story of America then, as told by America now.
Our Safe & Clean Commitment

CLICK HERE to read our full Safe & Clean Commitment including our policies regarding mandatory proof of vaccinations & masks.

Age Recommendation & Run Time

Age Recommendation

Recommended for Ages 10 and Up. Children under 5 will not be admitted to the theatre. All patrons must have a ticket.

Running Time

2 Hours and 50 Minutes (Including Intermission)

Accessible Performances

ASL Interpretation

ASL interpretation will be offered for the performances listed below.

Open Captioning

Open Captioning will be offered for the performances listed below.

Audio Description

Audio Description will be offered for the performances listed below. This service may be utilized from ANY SEAT.

PLEASE NOTE:

Visit Audience Services to check out a listening device at no cost by leaving a driver's license or other ID.

Special Requests

To request ASL interpretation, open captioning, or audio description services for a different performance, or for help finding accessible seats:

Call: (323) 468-1782, Tuesday-Friday (12pm-6pm).

Email is the best way to reach us. Please allow at least 2 weeks advance notice when making a request.

For more information, visit our Accessibility page.

#Ham4Ham Digital Lottery

CLICK HERE for details on how to enter the #Ham4Ham Digital Lottery.

Know Before You Go - Helpful Tips for Planning Your Visit

CLICK HERE for helpful tips on planning your visit to the theatre, and important information related to our updated Safe & Clean Policies involving proof of vaccinations & masks.

Playbill

Hamilton Store Location & Hours

6225 Hollywood Blvd.

(beside the Hollywood Pantages)

Los Angeles, CA 90028


HOURS

Tuesday - Friday: 4pm - 8pm

Saturday: 11am - 8pm

Sunday: 11am - 6:30pm

Watch HAMILTON on Disney+

Regarding COVID-19 Affected Performances

CLICK HERE for updates on cancelled performances of HAMILTON related to COVID-19.
Venue Info
Pantages Theatre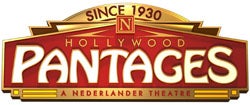 In the heart of Hollywood, on Hollywood Boulevard, right down the block from Vine Street, stands the Hollywood Pantages Theatre. It's a fitting location: The Pantages has become one of the greatest landmarks of Hollywood, signifying both the glorious past and adventuresome future of the world's entertainment capital.
The Hollywood Pantages has a history as grand and diverse as the stage and screen fare which audiences have flocked to enjoy there for half a century. These days it's one of Los Angeles' leading homes of legitimate theatre (the five highest-grossing weeks in L.A.'s theatrical history were all shows at the Pantages) and a favorite "location" for tv shows, movies and music videos. In the past, it has been a movie house, with live vaudeville acts between features as well as the site of many gala premieres and "spectaculars." For ten years the Hollywood Pantages Theatre was the home of the glittering Academy Awards Presentations.
While the use of the Hollywood Pantages Theatre may have changed over the years, the theatre does not appear all that different today. After several touch-ups over the years, the Hollywood Boulevard showplace was renovated at the turn of the 21st century to recapture its 1930 look and luxury. When the theatre reopened in September 2000, some 300 people had repainted nearly every inch of the theatre, restored its outer lobby and missing chandeliers, refurbished its walls and prepared it for the new century.
Click the link below for more venue information including directions, parking and more!
More Info