Tuesday

September

7

2021

8:00 PM

Wednesday

September

8

2021

8:00 PM

Thursday

September

9

2021

8:00 PM

Friday

September

10

2021

8:00 PM

Saturday

September

11

2021

2:00 PM

Saturday

September

11

2021

8:00 PM

Sunday

September

12

2021

1:00 PM

Sunday

September

12

2021

6:30 PM

Tuesday

September

14

2021

8:00 PM

Wednesday

September

15

2021

8:00 PM

Thursday

September

16

2021

8:00 PM

Friday

September

17

2021

8:00 PM

Saturday

September

18

2021

2:00 PM

Saturday

September

18

2021

8:00 PM

Sunday

September

19

2021

1:00 PM

Sunday

September

19

2021

6:30 PM

Tuesday

September

21

2021

8:00 PM

Wednesday

September

22

2021

8:00 PM

Thursday

September

23

2021

8:00 PM

Friday

September

24

2021

8:00 PM

Saturday

September

25

2021

2:00 PM

Saturday

September

25

2021

8:00 PM

Sunday

September

26

2021

1:00 PM

ASL | Open Caption | Audio Description

Sunday

September

26

2021

6:30 PM

Tuesday

September

28

2021

8:00 PM

Wednesday

September

29

2021

8:00 PM

Thursday

September

30

2021

8:00 PM

Friday

October

1

2021

8:00 PM

Saturday

October

2

2021

2:00 PM

Saturday

October

2

2021

8:00 PM

Sunday

October

3

2021

1:00 PM

Sunday

October

3

2021

6:30 PM
CLICK HERE FOR ENGAGEMENT RESCHEDULE INFORMATION
Direct from Broadway, MEAN GIRLS is the hilarious hit musical from an award-winning creative team, including book writer Tina Fey (30 Rock), composer Jeff Richmond (Unbreakable Kimmy Schmidt), lyricist Nell Benjamin (Legally Blonde) and director Casey Nicholaw (The Book of Mormon).
Cady Heron may have grown up on an African savanna, but nothing prepared her for the vicious ways of her strange new home: suburban Illinois. Soon, this naïve newbie falls prey to a trio of lionized frenemies led by the charming but ruthless Regina George. But when Cady devises a plan to end Regina's reign, she learns the hard way that you can't cross a Queen Bee without getting stung.
New York Magazine cheers, "MEAN GIRLS delivers with immense energy, a wicked sense of humor and joyful inside-jokery." USA Today says, "We'll let you in on a little secret, because we're such good friends: GET YOUR TICKETS NOW!"
Additional Ticket Information

Individual tickets for the newly announced dates in 2021 will go on sale at a later date TBA.

Our Safe & Clean Commitment

Broadway in Hollywood is committed to the safety, health, and enjoyment of all patrons who come to see our shows. CLICK HERE.

Accessible Performances

ASL Interpretation

ASL interpretation will be offered for the performances listed below.

Mean Girls | Pantages Theatre | Sunday, September 26, 2021 at 1pm | On Sale TBA

Open Captioning

Open Captioning will be offered for the performances listed below.

Mean Girls | Pantages Theatre | Sunday, September 26, 2021 at 1pm | On Sale TBA

Audio Description

Audio Description will be offered for the performances listed below. This service may be utilized from ANY SEAT.

Mean Girls | Pantages Theatre | Sunday, September 26, 2021 at 1pm | On Sale TBA

PLEASE NOTE:

Visit Audience Services to check out a listening device at no cost by leaving a driver's license or other ID.

Telecoil Induction Loop

Simply set your device to the Telecoil feature, and adjust volume accordingly. We also offer a limited number of T-coil loop receivers for patrons with no personal device.

Special Requests

To request ASL interpretation, open captioning, or audio description services for a different performance, or for help finding accessible seats:

Email is the best way to reach us. Please allow at least 2 weeks advance notice when making a request.

For more information, visit our Accessibility page.

Photo Credits

All Photos: Original Broadway Company

Photos by: Joan Marcus

Age Recommendation & Run Time

Age Recommendation

Recommended for ages 12 and up. Children under 5 will not be admitted to the theatre. All patrons must have a ticket.

Running Time

2 Hours and 30 Minutes (Including Intermission)

Listen to the Cast Album on Amazon Music
Venue Info
Pantages Theatre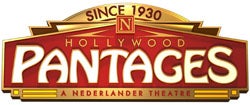 In the heart of Hollywood, on Hollywood Boulevard, right down the block from Vine Street, stands the Hollywood Pantages Theatre. It's a fitting location: The Pantages has become one of the greatest landmarks of Hollywood, signifying both the glorious past and adventuresome future of the world's entertainment capital.
The Hollywood Pantages has a history as grand and diverse as the stage and screen fare which audiences have flocked to enjoy there for half a century. These days it's one of Los Angeles' leading homes of legitimate theatre (the five highest-grossing weeks in L.A.'s theatrical history were all shows at the Pantages) and a favorite "location" for tv shows, movies and music videos. In the past, it has been a movie house, with live vaudeville acts between features as well as the site of many gala premieres and "spectaculars." For ten years the Hollywood Pantages Theatre was the home of the glittering Academy Awards Presentations.
While the use of the Hollywood Pantages Theatre may have changed over the years, the theatre does not appear all that different today. After several touch-ups over the years, the Hollywood Boulevard showplace was renovated at the turn of the 21st century to recapture its 1930 look and luxury. When the theatre reopened in September 2000, some 300 people had repainted nearly every inch of the theatre, restored its outer lobby and missing chandeliers, refurbished its walls and prepared it for the new century.
Click the link below for more venue information including directions, parking and more!
More Info