Pantages Theatre
Message In A Bottle
The iconic songs of Sting. The electrifying choreography of Kate Prince.
Tuesday

February

6

2024

7:30 PM

Wednesday

February

7

2024

7:30 PM

Thursday

February

8

2024

7:30 PM

Friday

February

9

2024

8:00 PM

Saturday

February

10

2024

2:00 PM

Saturday

February

10

2024

8:00 PM

Sunday

February

11

2024

1:00 PM ASL | Open Caption | Audio Description
This is a tale of hope.
The peaceful village of Bebko is alive with joyous celebrations. Suddenly, under attack, everything changes forever. Three siblings, Leto, Mati and Tana, must embark on perilous journeys in order to survive.
MESSAGE IN A BOTTLE is a spectacular new dance-theatre show from five time Olivier Award nominee, Kate Prince, inspired by and set to the iconic hits of 17-time Grammy Award-winning artist Sting, including Every Breath You Take, Roxanne, Walking On The Moon and more. With a mix of exhilarating dance styles, highenergy footwork and breath-taking athleticism, MESSAGE IN A BOTTLE tells a unifying and uplifting story of humanity and hope. 
A Sadler's Wells & Universal Music UK Production, with ZooNation: The Kate Prince Company. Co-produced with Birmingham Hippodrome and The Lowry, Salford
Run Time

1 hour and 45 minutes including Intermission

Age Recommendation

Children under 5 will not be admitted into the theatre. All persons entering the theatre, regardless of age, must have a ticket.

Accessibility

Please visit our Accessibility page for information on accessible performances and more.

Photo Credits

All Photos: Message In A Bottle 2021 cast. Phtos by Lynn Theisen
Venue Info
Pantages Theatre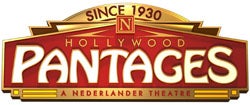 In the heart of Hollywood, on Hollywood Boulevard, right down the block from Vine Street, stands the Hollywood Pantages Theatre. It's a fitting location: The Pantages has become one of the greatest landmarks of Hollywood, signifying both the glorious past and adventuresome future of the world's entertainment capital.
The Hollywood Pantages has a history as grand and diverse as the stage and screen fare which audiences have flocked to enjoy there for half a century. These days it's one of Los Angeles' leading homes of legitimate theatre (the five highest-grossing weeks in L.A.'s theatrical history were all shows at the Pantages) and a favorite "location" for tv shows, movies and music videos. In the past, it has been a movie house, with live vaudeville acts between features as well as the site of many gala premieres and "spectaculars." For ten years the Hollywood Pantages Theatre was the home of the glittering Academy Awards Presentations.
While the use of the Hollywood Pantages Theatre may have changed over the years, the theatre does not appear all that different today. After several touch-ups over the years, the Hollywood Boulevard showplace was renovated at the turn of the 21st century to recapture its 1930 look and luxury. When the theatre reopened in September 2000, some 300 people had repainted nearly every inch of the theatre, restored its outer lobby and missing chandeliers, refurbished its walls and prepared it for the new century.
Click the link below for more venue information including directions, parking and more!
More Info